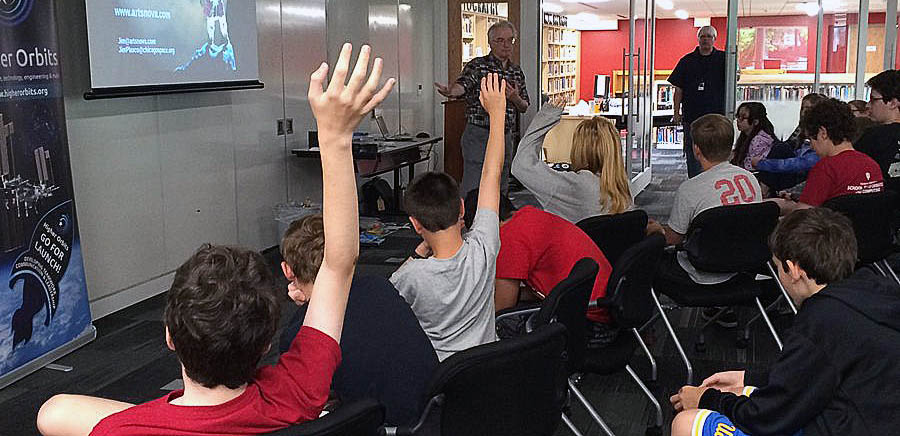 As a part of our educational mission, the Chicago Society for Space Studies established a Speakers Bureau which has receive a number of awards – most recently the National Space Society 2020 Excellence in Speaker Outreach Award. The purpose of our speakers bureau is to provide in-person educational presentations and programs about space exploration, space policy, space development, and space science to groups and facilities in the Chicago area. As of 2020, our services have expanded to provide virtual presentations (Zoom, Google Meet, Jitsi, etc.) to audiences everywhere.
Our speakers have provided space science and space exploration related presentations to youth groups, astronomy clubs, libraries, museums, senior citizen groups, and schools in Chicago and its suburbs. For a more detailed overview of venues and localities, please scroll down to the bottom of this page.
Topics on which our speakers have made presentations have included:
International Space Station
Robotic Exploration of Mars
Human Exploration of Mars
Cassini Mission to Saturn
The Deep Impact Mission
NEAR Asteroid Mission
Planets of the Solar System in 3D
Lunar Solar Power
Enterprise in Space
Space Settlement
Antimatter Propulsion
Art and the Exploration of Space

Gemini Program History
Apollo Program History
Annual Space Year in Review
Future of Human Space Exploration
Why We Need to Explore Mars
Solar Power Satellites
Lunar Helium-3 and Fusion Energy
Hubble Space Telescope
NewSpace / Commercial Space
Cislunar Economics
Economic Factors of Space Settlement
Our Team of Speakers
The members of the CSSS Speakers Bureau are:
How to use the Speakers Bureau Subject Categories and Topics Table
The Speakers Bureau Subject Categories and Topics Table identifies the categories, topics, and speakers who provide presentations on that topic.
To view the list of topics within a category, click the category name to open the topics list.
To view the list of speakers for a topic, click the topic name to open the speaker list.
Click the speaker's name to be taken to that speaker's biography page, which also contains their contact information.
Once a category or topic section is opened, it can be closed by clicking on the category or topic name.
All arrangements for presentations are made directly between the group and the individual speaker.
CSSS Speakers Bureau Subject Categories and Topics Table
Illinois communities in which CSSS speakers have given presentations include:
Antioch
Arlington Heights
Bartlett
Batavia
Bloomingdale
Blue Island
Chicago
Crystal Lake
Deerfield
Elgin
Elk Grove
Elmhurst
Evanston
Glenview
Hanover Park
Highland Park
Hoffman Estates
Lake Zurich
Lincolnwood
Morton Grove
Mundelein
Naperville
Niles
Northbrook
Palatine
Park Ridge
River Forest
River Grove
Riverwoods
Rolling Meadows
Rosemont
Schaumburg
Skokie
Volo
Wauconda
Wheeling
Venues for presentations have included:
Museums
Adler Planetarium
Museum of Science and Industry
Cernan Space Center
PSF Henize Science Center
Elmhurst Art Museum
Yerkes Observatory
Schools
Antioch Upper Grade School
Campanelli Public School
Eisenhower Junior High School
Elgin Community College
Willard Elementary School
Sunnydale Elementary School
Libraries
Bartlett Public Library
Batavia Public Library
Bloomingdale Library
Blue Island Library
Deerfield Public Library
Ela Area Public Libraryy
Elgin Public Library
Elk Grove Public Library
Evanston Library
Glenview Library
Highland Park Library
Indian Trails Library
Morton Grove Public Library
Niles Public Library
Park Ridge Public Library
Poplar Creek Library
Rolling Meadows Library
Schaumburg Library
Skokie Public Library
Wauconda Library
Other
Boys Scout Troop 67
Capricon Science Fiction Convention
Duckon Science Fiction Convention
ED/CAS/SSC Societies of IEEE
Friendship Village Mens Club
Harper College Astronomy Day
International Space Development Conference
Lake County Astronomical Society
Northwest Surburban Astronomers
Pixel Camera Club
Skokie Valley Astronomers
ToBe Continued Convention
Windycon Science Fiction Convention
To find out how you can help the Chicago Society for Space Studies promote space exploration in the Chicago area, please check out our Membership page.