On July 31, 2021 at a virtual National Space Society Town Hall, the National Space Society held its annual Chapters Awards Ceremony to recognize those chapters whose activities during the 2020 calendar year merited recognition.
In recognition of its many speaker activities (see the Chicago Society for Space Studies Speakers Bureau), the Chicago Society for Space Studies (CSSS) was presented with the National Space Society's Excellence in Speaker Outreach Award for 2021.
During 2020, a very challenging year for public programming, CSSS was able to hold 25 speaker events reaching an audience of just under 900 people. Venues included libraries, schools, community organizations, and professional organizations. Examples of speaker programs given by members of the CSSS Speakers Bureau include
CSSS President Jim Plaxco's The Sustainability of a Lunar Economy for the 2020 Lunar Development Conference
CSSS Vice President Larry Boyle's 2020 Space Year in Review for the Lake County Astronomical Society
CSSS Speaker Larry Bartoszek's The History of the Universe Starting with the Big Bang for the State Microscopical Society of Illinois
CSSS Speaker Jim Kovac's Fantastic Space Discoveries and Where to Find Them: The Search for Planet 9 for Elmhurst College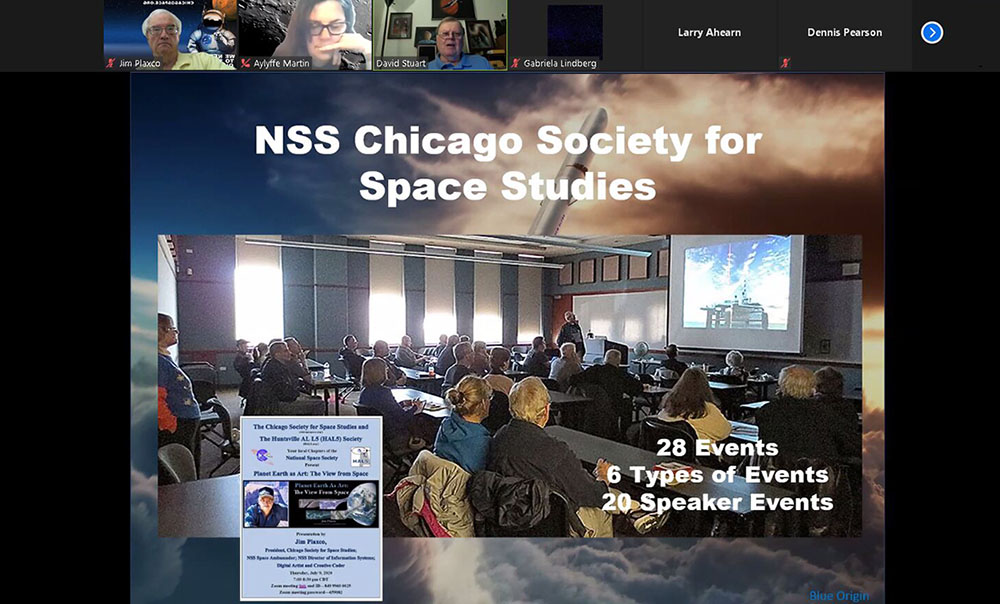 Hosting the event for the National Space Society (NSS) were Larry Ahearn, NSS Vice President – Chapters, David Stuart, NSS Chapters Committee Chair, and Aylyffe Martin, NSS Chapters Coordinator. Accepting the award for Chicago Society for Space Studies was CSSS President Jim Plaxco.