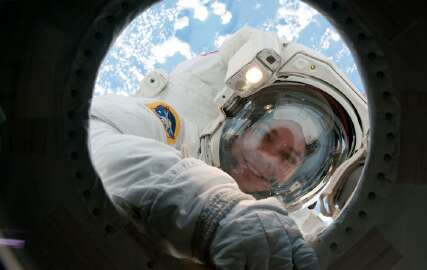 The Chicago Society for Space Studies (CSSS) is proud to be an official sponsor of the Gateway to Space space development conference. Hosted by St. Louis Space Frontier, the conference will be held November 7-9, 2014 at the Crowne Plaza in St. Louis. CSSS members who will be speaking at the conference include CSSS President Jim Plaxco and long time CSSS member Lynne Zielinski.
Gateway to Space is a conference for and about space exploration and development for both space professionals and space enthusiasts. Wherever we go in space next, we will get there through technologies like 3D printing, which will be the subject of a presentation by keynote speaker Michael Snyder, who heads research and development for the company at the forefront of 3D printing in space, Made in Space.
Some of the topics covered will be human missions to Mars, lunar settlement, asteroid mining, space economics, newSpace, and the newly established Enterprise in Space project.
Gateway to Space is appropriate for research scientists, aerospace engineers, undergraduate and graduate
students, space advocates, science fiction enthusiasts, educators, and anyone interested in learning more about space development.
In addition to the conference programming and a Cosmic Celebration with a space-themed fashion show and art show, conference attendees will be able to:
attend a screening of Lunarcy!, with a Q&A with some of its stars
attend a Behind-the-scenes tour of Boeing's Prologue Room (usually closed to the public) during a St. Louis Space Retrospective, with a panel featuring many past employees on America's first space programs and Lowell Grissom, brother of astronaut Gus Grissom
visit the Greater St. Louis Air and Space Museum with all its McDonnell Douglas memorabilia
attend a tour of the Mars Laboratory at Washington University in St. Louis
Among the dozens of speakers and panelists are:
Professors who are launching CubeSat satellites into space with their students
Professionals who are leading the science teams for NASA's Mars rovers
Past and present Boeing engineers
newSpace startup entrepreneurs
As of Sept 6, confirmed speakers are:
Dale Amon, XCOR Aerospace
Ray Arvidson, Director Earth and Planetary Remote Sensing Laboratory, Washington University
Norm Beckel, McDonnell-Douglas engineer on NASA Project Mercury
Christopher Carson
Hyung Choi
Ryan Clegg
Dave Dunlop, National Space Society
Marshall Eubanks
Diane Furtney
Al Globus, National Space Society
Lowell Grissom, Apollo I Memorial Foundation
Rich Heurmann
Brad Jolliff, Washington University
Peter Kokh, Editor, Moon Miners Manifesto
Stacey Larson
Michael Mackowski, Phoenix Chapter of The National Space Society
John Mulholland
Earl Mullins, The Space Museum
Bruce Pittman, National Space Society
Jim Plaxco, Chicago Society for Space Studies
W. Dean Purdy
Joe Rauscher, Space Development Foundation
Earl Robb
Jerry Roberts
James Roe
Peter Schubert, Lugar Center for Renewable Energy
Michael Shead
Dale Skran, Deputy Chair, National Space Society Policy Committee
Michael Snyder, Made In Space
Tory Starbuck
Michael Swartwout
Nelson Weber
Lynne Zielinski, Enterprise in Space
As of September 6, conference sponsors and supporters are:
AIAA
Arch Reactor
Artsnova Digital Arts Gallery
Astro95 Media
Astronomical Society of Eastern Missouri
Chicago Society for Space Studies
Geekway to the West
Greater St. Louis Air and Space Museum

Jim Plaxco
Michael Shead
Space-Careers.com
St. Louis Board-Game Meetup Group
Stacey Larson
Stephen Block
The Moon Society
The Space Museum
Webster Groves National Honors Society
Webster Groves Statesbots
York-Hyler Creative Resources
To register for the Gateway to Space conference, go to (CLOSED)Gateway To Space conference registration and follow the instructions. Registration is just $100 for the full conference. The registration rate will increase to $135 on October 7th. There is an additional $10 fee for the St. Louis Space Retrospective held at the at the Boeing Prologue Room. Information on reserving rooms at the conference hotel – Crowne Plaza St. Louis – Downtown – is accessible from the registration page.
For conference-related questions, contact stlspacefrontier at gmail.com
Download the PDF of the Gateway to Space Conference Flyer