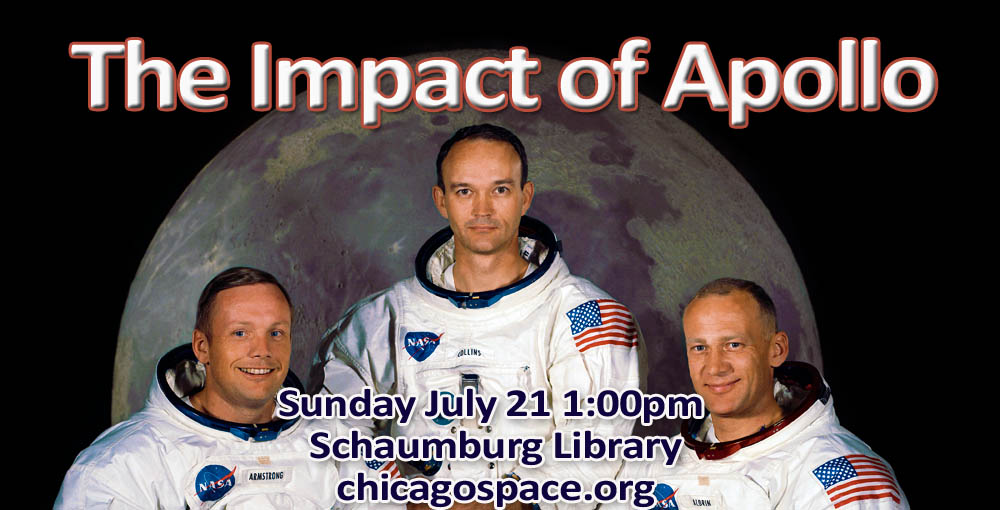 The July meeting of the Chicago Society for Space Studies (CSSS) will feature a panel discussion on the impact of the Apollo program, with an emphasis on the Apollo 11 mission as July 20, 2019 marks the 50th anniversary of humanity's first steps on another world.
Participating in our The Impact of Apollo panel are
CSSS Speakers Bureau member and National Space Society Space Ambassador Larry Bartoszek
CSSS Vice President Larry Boyle
National Space Society Deputy Education Manager Frances Dellutri
Bill Higgins, a radiation safety physicist at Fermilab
CSSS President Jim Plaxco as moderator
Our panelists will address their personal memories of NASA's Apollo program, Apollo's impact on the space activist movement, its impact on science and technology, and more broadly the program's societal impact.
The program starts at 1:00pm and will be followed by general discussion. The library opens at 12:00 noon and attendees are encouraged to arrive before the start of the presentation.
This program is free and open to the public.
The Impact of Apollo
Date:
Sunday, July 21, 2019
Time:
1:00 PM to 3:00 PM
Location:
Adult Classroom (on the 2nd Floor),
Schaumburg Township District Library
130 South Roselle Road, Schaumburg, IL
Link to Google Maps for Schaumburg Library Location


NOTE: The library opens at Noon on Sundays.
The best way to stay informed about the Chicago Society for Space Studies and other local space activites is by
subscribing to Spacewatch, our free quarterly newsletter.