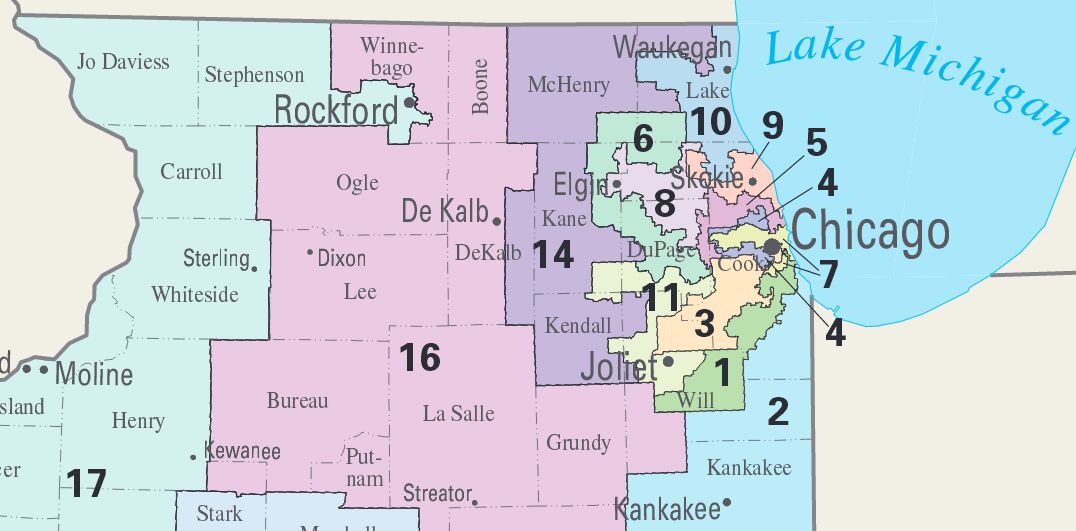 In 2014, Chicago Society for Space Studies (CSSS) members and officers took part in the Alliance for Space Development / National Space Society / Space Frontier Foundation Home District Blitz. CSSS representatives visited with three United States Representatives and one candidate for the U.S. Congress. The purpose of each of these meetings was to inform our elected leaders (and candidates) of our position on several issues of national space policy.
It is now 2016 and once again elections are around the corner and the Alliance for Space Development in conjunction with the National Space Society and the Space Frontier Foundation are again initiating their Home District Blitz. While CSSS did not participate in 2015, it is our goal to participtate again in 2016.
In order for our participation in the 2016 Home District Blitz to be successful, CSSS is actively seeking residents of northeastern Illinois congressional districts who would be willing to participate in a visit to their representative's local office.
If you are passionate about space exploration and space policy, then please join us. Among the areas of space policy that will be addressed are:
support of the Space Exploration, Development, and Settlement Act (H.R. 4752)
creation of a Low Cost Access to Space Prize
full funding for the Commercial Crew program
Support of a gapless transition from ISS to commercial space stations
On the subject of space policy, you may be interested in reading A Space Policy Discussion with Libertarian Presidential Candidate Gary Johnson – which summarizes a series of conversations that took place between CSSS President Jim Plaxco and Libertarian Presidential Candidate Gary Johnson.
To participate in this project or to get additional information, please contact CSSS President Jim Plaxco via email at (Submissions closed)
Those wishing to participate in the Home District Blitz will find the following information useful. Note that we are especially interested in volunteers who live in the 3rd, 11th, and 14th congressional districts.
Illinois Congressional Delegation – 2016
Congressional
District
Status
Name
Party
1st
Yes
Bobby Rush
(D)
2nd
Yes
Robin Kelly
(D)
3rd
Yes,(1),(2)
Daniel Lipinski
(D)
4th
Yes
Luis Gutierrez
(D)
5th
Yes
Mike Quigley
(D)
6th
Yes
Peter Roskam
(R)
7th
Yes
Danny Davis
(D)
8th
Yes
Tammy Duckworth
(D)
9th
Yes
Janice Schakowsky
(D)
10th
Yes
Bob Dold
(R)
11th
Yes,(1)
Bill Foster
(D)
12th
Mike Bost
(R)
13th
(2)
Rodney Davis
(R)
14th
Yes,(1)
Randy Hultgren
(R)
15th
John Shimkus
(R)
16th
Adam Kinzinger
(R)
17th
(2)
Cheri Bustos
(D)
18th
(1)
Darin LaHood
(R)
The "Status" field in the above table identifies with a Yes those congressional districts that are located in northeastern Illinois – which is our targeted area of operation. Additionally, the (1) and (2) indicate which relevant committees and/or subcommittees the associated representative is a member of. These committees are indicated below. CSSS is most interested in meeting with these representatives.
For additional information about the Illinois Congressional delegation see
Illinois Congressional delegation at Govtrack.us
U.S. House Committees and Subcommittees with Illinois Representatives As Members
Note that the United States House of Representatives, Committee on Transportation and Infrastructure, Aviation Subcommittee
has oversight of the Federal Aviation Administration (FAA). The FAA has the responsibility and authority within the Department of Transportation to facilitate, regulate, and promote the commercial space launch industry and is therefore of interest to us with respect to U.S. national space policy.
Other Committees and Subcommittees of Note
For a complete list of U.S. House committees, see United States House of Representatives List of Committees
Online Space Policy Resources
Note that the Alliance for Space Development includes the following organizations: Space Frontier Foundation, National Space Society, the Lifeboat Foundation, The Mars Foundation, The Mars Society, the Space Development Foundation, the Space Development Steering Committee, the Space Tourism Society, Students for the Exploration and Development of Space, Students on Capitol Hill, and the Texas Space Alliance.
Show your support of space exploration and development by participating in the Home District Blitz. Thank you.