By Frances Dellutri, NSS director of Education and CSSS Speakers Bureau Speaker
National Space Society's SpacEdge Education has presented an exciting program that involves students debating critical topics on space policy and good governance as we prepare for rapid and permanent space settlements. The spUN (space policy and UNiversalization) Debate Program began in 2017 at the International Space Development Conference, hosted by NSS [a grass roots space advocacy 501(c)(3) society founded by Werner von Braun].

The basic premise of universalization is a shift away from a focus on the globalization of Earth to the governance of 'the world within the universe' and for outer space to be the next frontier for all. The imperative is that for the diversity of humanity to be sustainable within a universal construct, an inclusive and cooperative approach is required for the governance of the universe and the worlds within it, including habitation, exploration, discovery, resource deployment and mitigation.
The High School spUN Debate Program
The High School Program has impacted over 5,000 people, 50% of them students since its inception in 2017 through virtual participation, in-person attendance, YouTube, and Facebook broadcasts. The only barrier to student involvement is a small registration fee and access to technology. Our goal is to bring enriching opportunities to students no matter their location, economic status, or ethnicity.
The high school debate teams are comprised of international students (ages 14-18) preparing and debating resolutions virtually: NSS spUN Debate Sizzle Video.
Since its inception in 2017, the spUN Debate Program has seen over two hundred students from thirteen countries involved in the debates.
The 2022 High School spUN Debate Program hosted eight teams of four students, hailing from five different countries. Application input, videos and on-line courses were part of the assessment protocol to determine acceptance into the program and team assignments. The students ranged from seasoned veterans who had debated in their home schools and regions to students who had never debated. The online courses helped the coaches determine how to manage their coaching focus to bring beginning debaters up to speed, allow veteran debaters a leadership opportunity and reach the goal of building cohesive, competent debate teams. Frances Dellutri, NSS Director of Education was the 2022 H.S. spUN Debate Manager and Appoorva B.R. was co-manager.
Preparing students for a strong international debate takes thought and dedication The commitment to this program is outstanding as the following 2022 statistics show:
| | |
| --- | --- |
| Coaches: | 1,059 hours |
| Debaters: | 2,162 hours |
| spUN Organizers: | 592 hours |
Professional debate coaches and debaters met once or twice a week from early February until the spUN Debate Tournament in late May. The Program hosted a Mentor Forum with two space subject matter experts Jim Plaxco and Burt Dicht and Dr. LJ Edmonds, an expert in the concept of universalization. The teams debated in a practice tournament also arguing the tournament resolution: Resolved: Private sector investment in Lunar space development will better serve humanity over public sector investment. A fourteen session double-elimination tournament decided the winning team Debus ( named for named for Kurt Debus, a German-born American rocket engineer and the first director of NASA's Launch Operations Center ) and finalist Team Tsiolkovsky (named for Konstantin Tsiolkovsky who was a Russian and Soviet rocket scientist who pioneered astronautic theory and thought to be one of the founding fathers of modern rocketry and astronautics).
The hybrid 2022 spUN Tournament was live streamed from the NSS International Space and Development Conference (ISDC) in Arlington, VA with all debaters in the Zoom platform and the judges and moderator in-house. Students for the Exploration and Development of Space- USA (SEDS) provided cash awards to the final teams. The final debates can be viewed at 2022 H.S. spUN Final Debate.
Through the years, some of the spUN resolutions have been about humanity and others about technology, always incorporating the universalization consideration. Here are the questions the Program poses when building a debate resolution:
Which space development concerns is the more important?
How can we marry the concerns with the concept of universalization?
How can we get the space players to give these topics the amount of interest, energy, and concern they need?
The 2022 Resolution was:
Private sector investment in Lunar space development will better serve humanity over public sector investment.
with CSSS members Frances Dellutri and Jim Plaxco participating in the debate resolution topic selection process.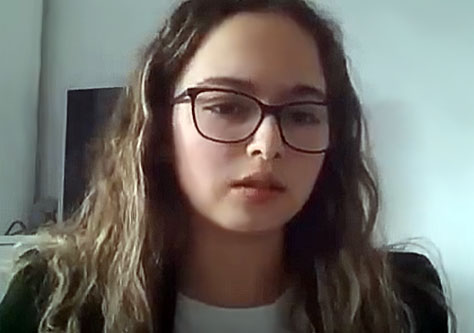 Romanian Ana, a 2022 first time High School spUN debater noted:
"The spUN Debates competition represents an experience from which I have learned more things than I could have imagined! From learning simple debate techniques to learning to inform myself correctly and efficiently, to improving my communication skills in a foreign language (since English is not my first language), I can still say that the most beautiful highlight remains the team I was part of, and I believe this is the real "magic" of this contest: the people you get to interact with. During this competition, I came across wonderful people who have had a strong impact on my development both professionally and personally, and with whom I hope to stay connected. This contest motivated me to become the best version of myself and made me want to get more involved in everything that means space policy and space development."
The University spUN 2022 Debate Program
The University Debate Program hosted an in-person pilot exhibition debate at the NSS 2022 International Space and Development Conference (ISDC 2022). The University spUN Debate Program invited Howard University (Historically Black College and University – HBCU) and Georgetown University , both located in the Washington, D.C. area, to participate in this pilot debate, using the same resolution as in the high school debate. The debaters were:
Georgetown University: Kiernan Lawless and Zidao Wang
Howard University: Julian Szyska and Sarah Nwankwo
Each team took a position and debated the resolution and then the teams switched their debating positions for the second round of the tournament. Judge Kevin Simmons determined Georgetown University as the winner of the Pilot University Tournament. The NSS North Illinois Chapter provided cash awards for the 2022 university debaters. Jordan Studwick and Frances Dellutri were co-managers of the 2022 University spUN Debate Program.
Plans are underway for the 2023 High School and University spUN Debate Programs. More information can be found at space.nss.org/contests/.
Contact frances.dellutri@nss.org for more information. SpacEdge Education asks you to help these unique and exceptional debates flourish! The spUN Debates are appreciative of donations made at: go.nss.org/spUN-debates-donation.