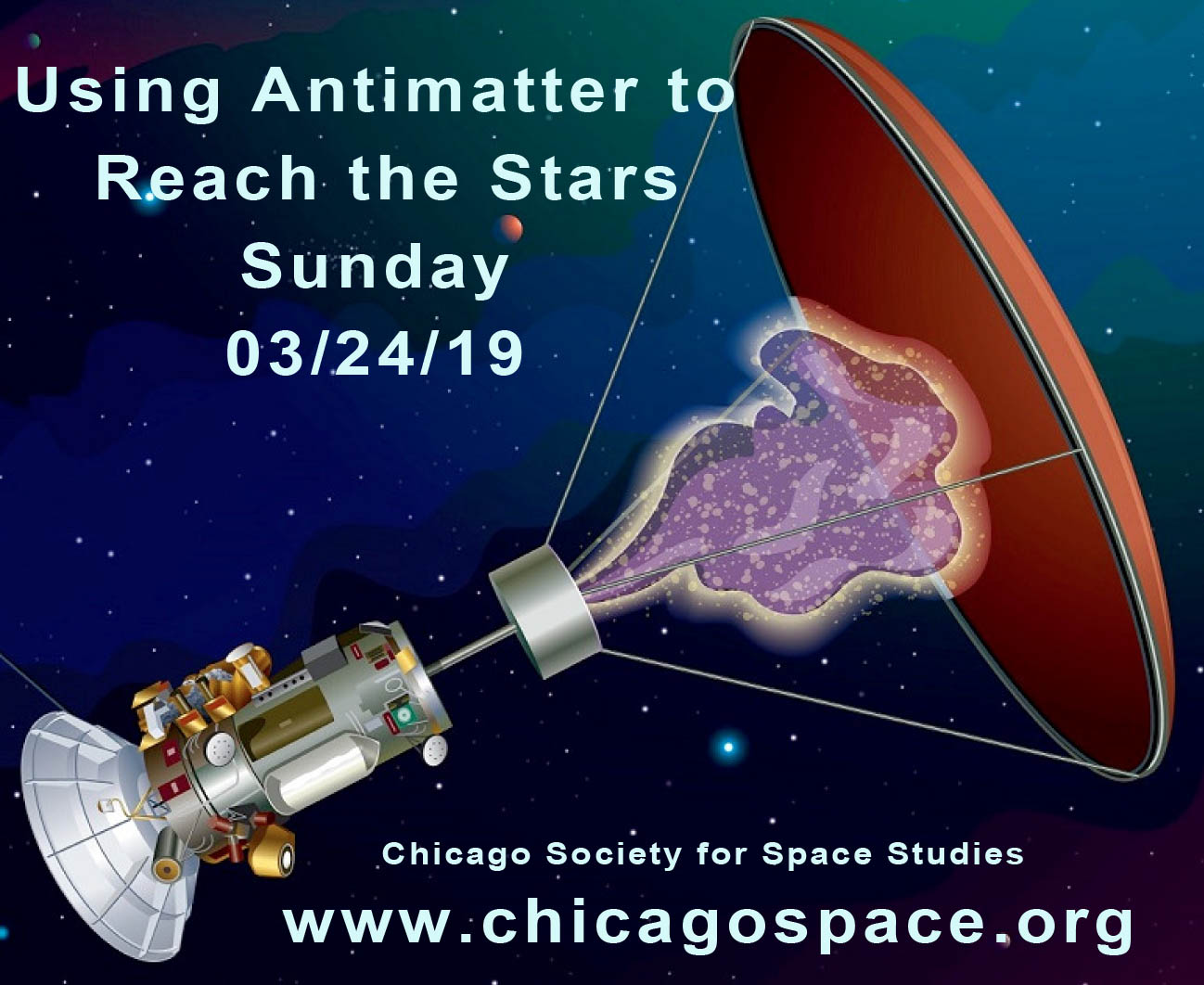 Using Antimatter to Reach the Stars
Date:
Sunday, March 24, 2019
Time:
1:00 PM to 3:00 PM
Location:
Rasmussen South (on the 2nd Floor),
Schaumburg Township District Library
130 South Roselle Road, Schaumburg, IL
Link to Google Maps for Schaumburg Library Location


NOTE: The library opens at Noon on Sundays.

Description:
The program Using Antimatter to Reach the Stars provides a look at how an antimatter propulsion system can be used for interstellar exploration.
Our special guest speaker for this event is Dr. Gerald P. Jackson, President of Hbar Technologies, LLC. Dr. Jackson attended the University of Michigan where he received bachelor degrees in both Astronomy and Physics. Dr. Jackson studied accelerator physics for his doctorate degree at Cornell University, optimizing collisions between electrons and their antimatter cousins, positrons. At the Fermi National Accelerator Laboratory from 1986 to 2000 he improved the performance of the Tevatron Collider through innovative work on the production, manipulation, and storage of antiprotons. In 2000 he left Fermilab to work on the application of antiprotons to cancer therapy, homeland security, and interplanetary propulsion concepts.

The presentation, which starts at 1:00pm, will be followed by general discussion. The library opens at 12:00 noon and attendees are encouraged to arrive before the start of the presentation.

This program is free and open to the public.
The best way to stay informed about the Chicago Society for Space Studies and other local space activites is by subscribing to Spacewatch, our free quarterly newsletter.