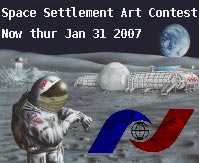 In a unamious vote of the officers and directors of the Chicago Society for Space Studies, it was decided that CSSS will be a sponsor of the National Space Society Space Settlement Art Contest and Calendar. As a sponsor, CSSS is donating $200.00 towards the cash component of prizes to be awarded to artists winning the Space Settlement Art Contest.
CSSS has undertaken this action because we agree with the project's primary goals, those being:
bringing attention to the benefits of space settlement
encouraging artists to create artwork illustrating the benefits of space settlement
In acknowledgement of our sponsorship, CSSS will be identified as a sponsor on both the contest web site (www.nss.org) and in the calendar itself.