Image: At the Mission Home Town Hall, Jeffrey Liss, member of NSS's Board of advisors, testifies about the cumulative commercial value of spinoff technologies arising out of the space program. In the background, panelists (L-R): author and CSSS member Frederik Pohl, NASA Associate Administrator Alan Ladwig, former astronaut Joe Kerwin moderator. (Photo by Bill Higgins)
The following article is a Blast from the Past and is taken from Inside NSS, Volume 8, Number 6, June 1996.
The four Chicago-area Chapters (Illinois North Shore NSS, Chicago Space Frontier L5, Chicago Society for Space Studies, and Zero G Destiny) joined with the PR firm of Fleishman Hillard to present the Space Awareness Alliance's first Mission HOME "Take Up Space" week May 4-11, highlighted by the first "Town Hall in Space" in the Crystal Gardens at Chicago's Navy Pier.
NSS Board Chair and Apollo 11 astronaut Buzz Aldrin made several appearances, as did Apollo 13 astronaut and NSS Governor Jim Lovell, who also serves as Chair of the Mission HOME ("Harvesting Opportunity for Mother Earth") campaign. That campaign is financed by a dozen aerospace companies and is supported by the U.S. Space Foundation and NSS.
The NSS members arranged about half of the events, and provided exhibits and volunteers at Aldrin's visit to the Adler Planetarium and then at the Town Hall.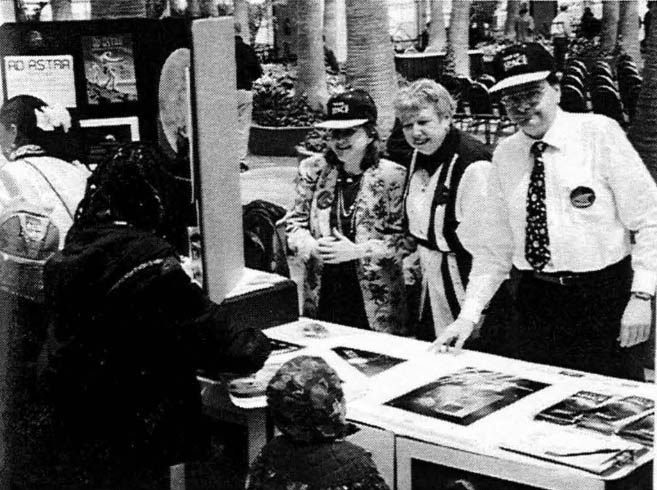 A standing-room-only crowd of 500-700 (at least two-thirds of whom signed up for the "Take Up Space" campaign) at the Town Hall saw a panel, chaired by astronaut Joe Kerwin, science fiction author Frederik Pohl, NASA Associate Administrator Alan Ladwig, Northwestern University student and Antarctica veteran Elizabeth Felton, and 8th-grader Maria Gonzalez, give testimony and public comment on how space technology improved life.
Numerous reports of the week's activities appeared in local media, and the participants appeared in numerous interviews.