Free and Open to the Public
Sunday November 30 2008
The Chicago Society for Space Studies 2008 Holiday Party will be held on Sunday, November 30 2008 at the Morton Grove Library. This event is free and open to the public. The party starts at 2:00pm and will feature a presentation exploring the use of space-based solar power satellites as a way to meet the world's growing demand for energy in an environmentally friendly way. In addition to the presentation, there will be snacks, drinks, and discussion. This is an excellent opportunity for CSSS members and anyone else with an interest in space to visit with each other and learn more about the Chicago Society for Space Studies.
The agenda for the meeting/party is:
| | |
| --- | --- |
| 2:00pm | Overview of Chicago Society for Space Studies and the National Space Society – Jim Plaxco – 10 Minutes |
| 2:20pm | Space Solar Power: Energy for Earth presentation by Jim Plaxco – 50 Minutes |
| 3:10pm | BREAK/SNACKS/SOCIALIZE – 20 minutes |
| 3:30pm | Question and Answer Session and General Discussion – Led by Jim Plaxco – 15 minutes |
| 3:45pm | Officers and Directors meeting to discuss new officers |
Morton Grove Library is located at 6140 Lincoln Avenue in Morton Grove. The library phone number is 847-692-7491 and the library web site is www.webrary.org. The following map shows the library's location at the point identified by the red "A".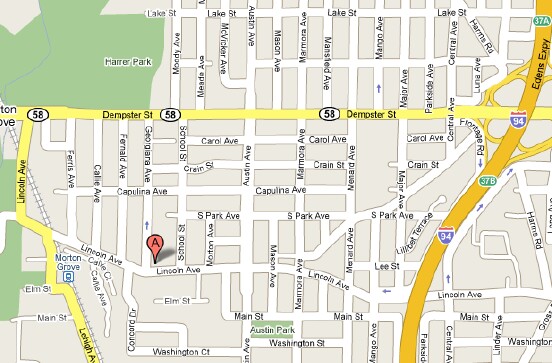 To find out how you can help the Chicago Society for Space Studies promote space exploration in the Chicago area, please check out our Membership page.